1.Product information
Product name: turmeric/curcumin
Product source: The dried rhizome of ginger family plant turmeric as raw material, extracted and refined.
Physical and chemical properties: orange-yellow crystalline powder, melting point 183°. Insoluble in water and ether, soluble in ethanol and glacial acetic acid, the solution is light yellow under acidic conditions, and reddish brown under alkaline conditions.
Executive standard: GB 1886.60-2015, GB 1886.76-2015, GB 26687-2011
Storage: Store in a cool, dry place, sealed and protected from light.
Shelf life: 12 months
2. Product Specification
E1% 1cm16-e1% 1cm300 water dispersible powder and liquid products; E1% 1cm10 - E1% 1cm100 oil soluble / dispersible liquid.
In addition to conventional alcohol soluble products, special products for beverages can be provided;
It can provide nano water-soluble powder and liquid products with better light resistance and higher transparency;
Oil soluble preparation products are evenly dispersed and have good oil solubility.
3.Product Introduction
Zhongda Hengyuan adopts unique patented extraction and purification technology to realize that in the HPLC experiment of 95% curcumin, the content of the monomer curcumin of Zhongda Hengyuan is greater than 82%; India's monomer curcumin content is only 74%; The monomer curcumin content of other domestic companies' products is only 76%, and the patented purification and deodorization technology also makes the curcumin flavor more pure.
(1)High stability:
The retention rate of active ingredients in Purcurmin® turmeric of CUHK is still 81.30% after standing for 9 days in the test of light resistance and acid and alkali resistance;
In the precipitation resistance test, the retention rate of PURCUMIN® turmeric products for 18 months was 97.9%, and the stability of the shelf life of turmeric beverages can be met by the resistance to precipitation.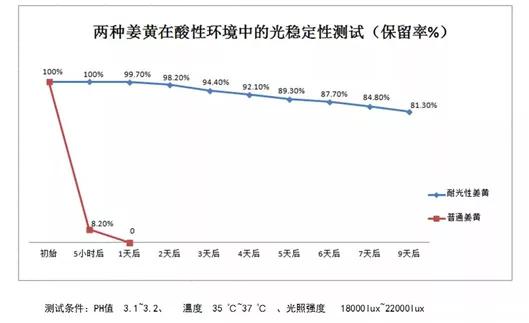 (2)High shelf life stability: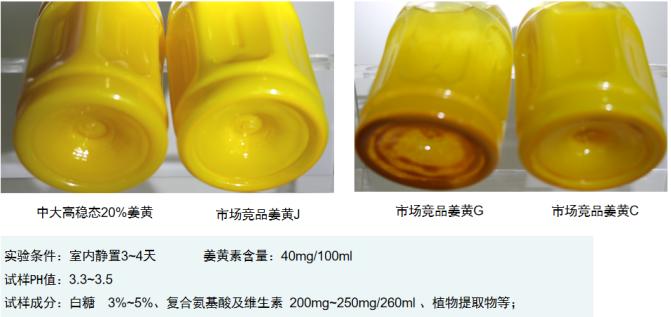 Zhongda High Steady State Curcumin 20%
Market Competitor Curcumin J
Market Competitor Curcumin G
Market Competitor Curcumin C
Experimental conditions: Let stand indoors for 3~4 days
Curcumin content: 40mg/100ml
Sample pH: 3.3-3.5
Sample composition: sugar 3%-5%,Complex amino acids and vitamins
200mg~250mg/260ml, plant extracts, etc.;
(3)High bioavailability

Zhongda Purcurmin® turmeric uses patented high-steady-state technology combined with solid dispersion and microemulsification, which has 10.28 times the bioavailability of turmeric raw materials.
On the basis of the first generation of turmeric, Zhongda Hengyuan has re-established a unified implementation standard from selection, breeding, field management to harvesting and screening. Relying on the whole life cycle traceability system, customers have more trust in product quality.
Zhongda Hengyuan has extensively cooperated with domestic universities, scientific research institutions and key enterprise research and development institutions, and has gathered scientific research forces to comprehensively optimize the company's research and development technology, and finally innovated the second generation of turmeric products. In addition to higher overall stability than the first generation, the bioavailability of the second-generation Purcurmin® turmeric, which is 10% of the API, has also increased to 18.46 times.

4.Product display and examples of effects

The effect of 10% curcumin products in 3 different solubility

Effect picture of 10% curcumin in confectionery, baking and pastry
5.Product Application Suggestions
Application range: widely used in flour products, frozen drinks, confections, baked foods, seasonings, pickled vegetables, beverages, mixed wines, puffed foods and other fields; please refer to GB2760 for specific application range and usage amount.
How to use: refer to the product instruction